OzoneLab™ Menu
In the upper left corner of each page within our site, you will find the OzoneLab™ Menu.
Note: the appearance of the menu differs per operating system since it uses the standard popup menu's as provided by the OS you are using.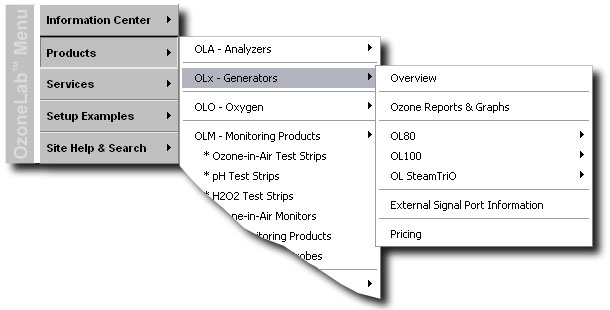 If this menu does not appear, then you're missing the JAVA plugin.
Java often comes with your browser, if this is not the case, download it at Sun.
Note: Windows XP by default does not come with JAVA, although Internet Explorer will automatically download it.
Using this menu, you can instantly jump from one page to another.
Example: Ozone Reports & Graphs can be accessed using the menus Products - OLx Generators - Ozone Reports & Graphs.
A menu item (A is the mainmenu button, B is a sub-item of the mainmenu) can be clicked as you are use to in your Operating System.
An arrow (visible at A and B, and stressed at C) indicates that a menu-item has a sub-menu and when clicked upon by your mouse, will expand further.
---
Navigation Bars

The above navigation bar shows the user exactly where they are within the site, and provides linking information to related pages such as Products, Product Pricing and Frequently Asked Questions. Depending on the specific page, you may see any combination of the following clickable icons:
| | | | | | | | |
| --- | --- | --- | --- | --- | --- | --- | --- |
| | How to contact Ozone Services. | | | Takes you to where you can conduct a site search. | | | Pricing on the product contained on the page you are looking at. |
| | | | | | | | |
| | Shows that there is a Frequently Asked Question relating to the topic or product on the page. | | | Shows that there is an Article relating to the topic or product on the page. | | | Shows that there is a PDF formatted document relating to the topic or product on the page. |
| | | | | | | | |
| | Shows that there is a 360° Product View available. | | | Shows that there is a Video File available relating to the topic or product on the page. | | | Shows that there is an Setup Example relating to the topic or product on the page. |
---
---