DEHP-Free Cuvette samples are being shipped with random orders - more information here!
---
For those clients that prefer cuvettes without inserts or rings, the "OzoneLab™ Standard #1 Cuvettes - Bare/Trial" are available for a limited time and may be added to our regular product line. Clients wishing to order these cuvettes should contact us directly for more information or to place an order - pricing is the same as for our Standard #1 Cuvettes.
The OzoneLab™ team produces standard and custom cuvettes: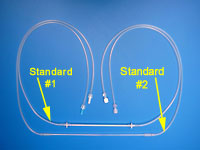 8" (193mm) Quartz
Specifically designed for our OzoneLab™ UV-4-8-12-W/12VDC machine
Will fit some units made in Germany
Includes the insert and locking rings
Is a regular stock item
.... Is usually referred as OzoneLab™ Standard #1 UV Cuvette
12" (305mm) Quartz
Will fit some units made in the US.
Is a regular stock item.
... Is usually referred to as OzoneLab™ Standard #2 Cuvette
Custom UV Cuvettes with a quartz length of:
Up to 8" (203mm)
Between 8" and 10" (204mm to 254mm)
Between 10" and 12" (255mm to 305mm)
---
OzoneLab™ UV Quartz Cuvette:
are designed and produced by Ozone Services, BC, Canada
include 2x24" flexible connection lines with standard Female and Male Luer Lock fittings
are 100% LATEX FREE
are made with high quality Quartz glass to minimize UV light loss
have an available insert designed to allow gentle flow and even exposure to UV. Please note that the insert is only available on units with a quartz length of 10" (255mm) or less
have available adjustable holding rings
have all parts securely attached and are guaranteed to be LEAK free
are individually packaged in a sterilizable pouch
Sterilization of UV Cuvettes:
Pre-sterilization process was done using:

Ozone Concentration 90 [µg/ml]

Sterilization by EtO by a certified facility
Sterilization Validation done by an independent laboratory
Standard Packaging:
8" or less

individually packaged in a 7"x12" sterilizable pouch
30 quartz cuvettes per box

over 8"

individually packaged in a 8"x16" sterilizable pouch
50 quartz cuvettes per box
Shipping:
Priority Mail, unless specified otherwise
---
Insert:
A custom molded part, made from UV resistant plastic, inserted inside Quartz tube of the UV Cuvette. The purpose of this part is to prevent laminar flow, to induce gentle mixing effect and therefore increasing the surface area of the liquid that is exposed to UV.
Quartz:
High quality glass which, besides many other superior properties over standard laboratory glass, has also very low resistance to UV light. Therefore the loses incurred by UV light penetrating the Quartz cuvette wall are minimal.
Rings:
Rings are used in pairs - one ring located at each end of the active section of UV Cuvette. They are designed to prevent linear movement of the UV Cuvette when it is inserted into the holding slots of OzoneLab™ UV Machine, keeping the UV Cuvette properly aligned in relationship to the position of UV lamps.
---