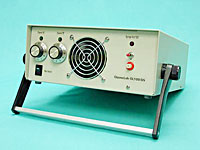 The OzoneLab™ OL100 Desktop Line of Ozone Generators has three main representative instrument models and are designed specifically for laboratory and medical research applications. OzoneLab™ Ozone Generators are designed to work in conjunction with Oxygen Flow Regulators providing an output of between zero and 1LPM.
The main characteristics of the OL100 line of generators are:
Wide range of ozone output due to 2-stage ozone production modular design.
Availability of wide range of customizable and custom-designed modifications.
Possibility to create OzoneLab™ Tower(s) by combining various types of OzoneLab™ instruments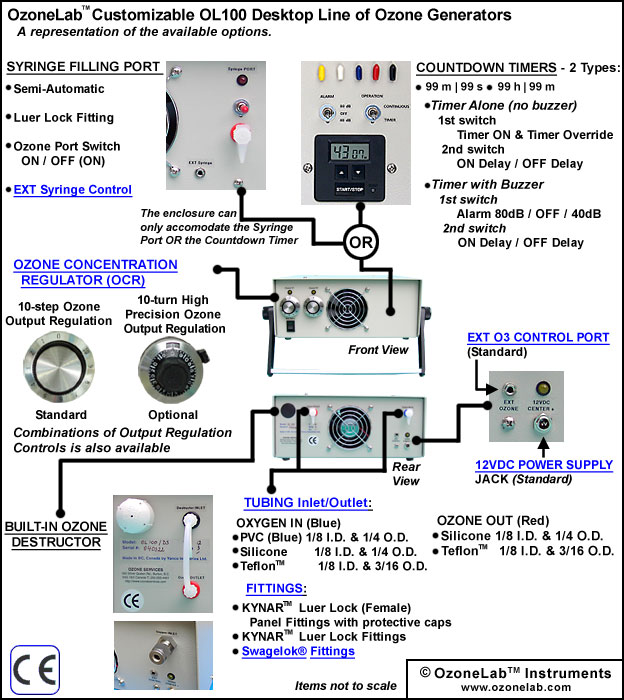 Model comparison chart
S = Standard | O = Optional | N/A = Not Applicable



OL100/Basic

OL100/T

OL100/DS

Generator, Analyzer or Combination

Generator
Only

Generator
Only

Generator
Only

360 Degree View Available

360° View

360° View

360° View

Setup Example Available

Examples

N/A

Examples

Model Picture

OL100 Ozone Module (Double Stage)

S

S

S

10-Step Ozone Output Regulation

S

S

S

10-Turn High Resolution Ozone Output Regulation

O

O

O

Combination of 10-Step Ozone
Output Regulation and 10-Turn High
Precision Ozone Output Regulation

O

O

O

External Ozone Output Regulation
(EXT O3 Control Port)

S

S

S

Internal Ozone Destructor

O

O

S

Semi-Automatic Syringe Adapter
with EXT Syringe Control Port

O

N/A

S

Countdown Timer & Buzzer

O

S

N/A

Minimum & Maximum
Ozone Gas Flow Requirements

0.005 LPM
1.0 LPM

0.005 LPM
1.0 LPM

0.005 LPM
1.0 LPM

Luer Lock Kynar® Ozone Resist Fittings

S

S

S

Swagelok® Fittings

v

O

N/A

Wall Mounted Enclosure

N/A

N/A

N/A

Desktop Tower Enclosure
with Handle/Stand - Stackable

S

S

S

Instrument Weight

3.5kg/8.0Lb

3.5kg/8.0Lb

3.5kg/8.0Lb

Power Requirements

12VDC
3.0 Amp

12VDC
3.0 Amp

12VDC
3.0 Amp

100-240AC/12DC/4Amp Universal Adapter

Included

Included

Included

Marking

Yes

Yes

Yes
OL100 Technical Data:
Ozone Production
Stabilization Time:

• 3 minutes to 90% of reference output is reached
• 6 minutes to 100% of reference output is reached
• after 10 minutes - 105% of reference output is reached

O2/O3 Ports:
Kynar® (PVDF) Female Luer Lock
Gas Pressure:
Standard Range 0-3 p.s.i.
Flow Range:
Standard Range 31-1000ml/min || Extended range 5-1000ml/min (MAX)
Humidity:
below 90% R.H.
Temperature:
Standard range 16-26C || Extended Range 10-30C
Cooling:
Air cooled instrument, 2x 3" fan in "PUSH/PULL" configuration
Power:
12VDC/3000mA (100-240VAC/12VDC Power Adapter w/IEC320 receptacle is included)
Enclosure:
Aluminum construction with laboratory grade heat tempered coating
Enclosure Only:
10.00x 11.00x 4.00" || 102x 254x 279mm (WxDxH)
Size w/handle-stand
(folded):
12.00x 12.00x 4.75" || 120x 305x 305mm (WxDxH)
Weight:
3.5kg/8Lbs
Warranty:
12 months
Compliance:
CE
For applications exceeding outlined conditions of operation, please contact us for more information on custom produced instruments and accessories.
OL100 Module (Double Stage)
Typical Ozone Output for double stage OL100 Ozone Generator
Flow
LPM

Flow
ml/min
Output
µg/ml
Output
[mg/hr]
0
0
0
0
1/32
31
0 - 183
0 - 340
1/16
62
0 - 174
0 - 647
1/8
125
0 - 144
0 - 1080
1/4
250
0 - 100
0 - 1500
1/2
500
0 - 63
0 - 1890
3/4
750
0 - 44
0 - 1980
1
1000
0 - 34
0 - 2040

• OL100 Sample Output Test Report
• OL100 Ozone Output Graphs
Note that we are able to provide Custom Ozone Output adjustments in the range of 10% - 100% of the Typical Ozone Output. Contact us for details.
Each ozone generator is tested and calibrated separately using 2" H2O back pressure.
OzoneLab™ instruments are designed for low flow/high output applications and are not suitable for flow rates above 1000ml/min due to the size of orifices in the ozone gas flow path. Gas Pressure is 0-3 p.s.i. (For applications dealing with higher pressures - please contact us for more info and/or consultation)
The below illustrated example is a standard OL100 which has been equipped with a built-in Ozone Destructor and Syringe Filling Port (OL100/DS)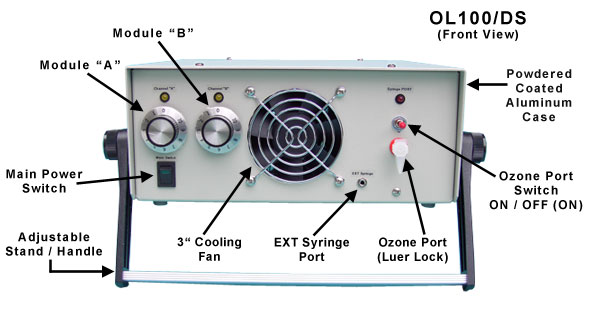 ---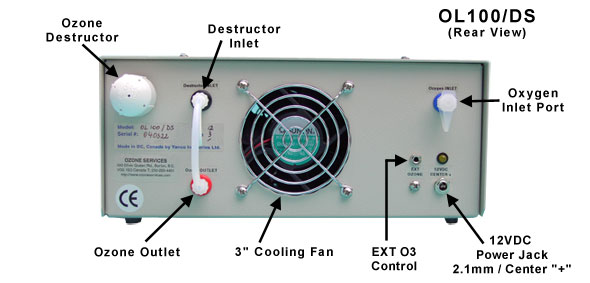 Syringe Port Information
The below pictures provide a visualization of how syringes are filled using the Syringe Port. You may also view a RealPlayerT video (343 KB) showing a syringe being filled. This port can be also used for filling other vessels such as gas sampling bags.
| | |
| --- | --- |
| To fill a syringe, move it to the syringe port | Insert syringe into port |
| Press toggle switch | Continue holding down toggle switch while filling. When the syringe is full, the release of the down-pressure on the toggle switch turns the syringe port OFF |
| | |
---
Examples of External Ozone Production & Ozone Flow Control Devices
---