| | |
| --- | --- |
| The OzoneLab™ OL80 Desktop Line (45° panel series) of Ozone Generators are designed specifically for laboratory and medical research applications. OzoneLab™ ozone generators are designed to work in conjunction with Oxygen Flow Regulators providing an output of between zero and 1LPM. | |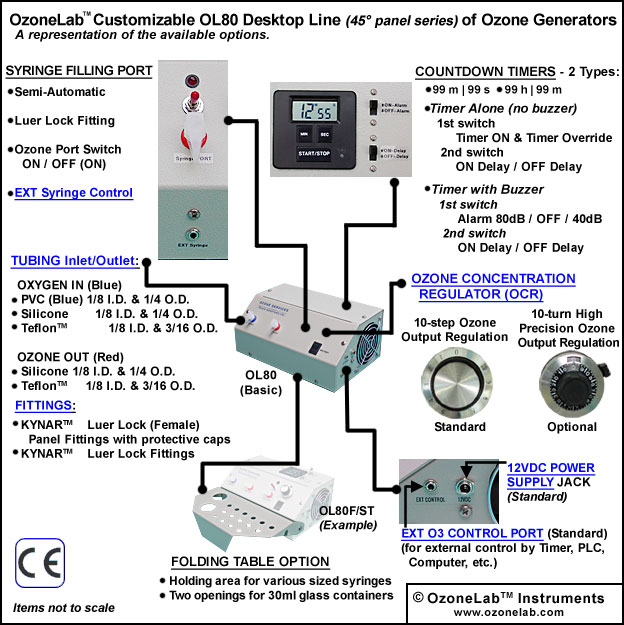 Model comparison chart
S = Standard | O = Optional | N/A = Not Applicable


OL80 (Basic)
45° panel
OL80B/T
45° panel
OL80
45° panel
OL80F/S
45° panel
OL80F/ST
45° panel
Generator, Analyzer or Combination
Generator
Only
Generator
Only
Generator
Only
Generator
Only
Generator
Only
360 Degree View Available
360 View
N/A
N/A
360 View
N/A
Setup Example Available
Examples
N/A
N/A
Examples
N/A
Model Picture
OL80 Ozone Module (Single Stage)
S
S
S
S
S
10-Step Ozone Output Regulation
N/A
N/A
S
S
S
10-Turn High Resolution Ozone Output Regulation
N/A
O
O
O
O
External Ozone Output Regulation
(EXT O3 Control Port)
S
S
S
S
S
Internal Ozone Destructor
N/A
N/A
N/A
N/A
N/A
Semi-Automatic Syringe Adapter
with EXT Syringe Control Port
N/A
O
O
S
S
Countdown Timer & Buzzer
N/A
S
O
O
S
Minimum & Maximum
Ozone Gas Flow Requirements
0.005 LPM
1.0 LPM
0.005 LPM
1.0 LPM
0.005 LPM
1.0 LPM
0.005 LPM
1.0 LPM
0.005 LPM
1.0 LPM
Luer Lock Kynar® Ozone Resist Fittings
S
S
S
S
S
Desktop Enclosure with 45° front panel
S
S
S
S
S
Folding Table for Desktop Enclosure with 45° front panel
O
O
O
S
S

Instrument Weight

1.5kg/3.0Lb
1.5kg/3.0Lb
1.5kg/3.0Lb
1.5kg/3.0Lb
1.5kg/3.0Lb
Power Requirements
12VDC
0.7 Amp
12VDC
0.7 Amp
12VDC
0.7 Amp
12VDC
0.7 Amp
12VDC
0.7 Amp
100-240AC/12DC/4Amp Universal Adapter
Included
Included
Included
Included
Included
Marking
Yes
Yes
Yes
Yes
Yes
OzoneLab™ OL80 (45° panel series) Technical Data:
Ozone Production
Stabilization Time:

• 3 minutes to 90% of reference output is reached
• 6 minutes to 100% of reference output is reached
• after 10 minutes - 105% of reference output is reached

O2/O3 Ports:
Kynar® (PVDF) Female Luer Lock
Gas Pressure:
Standard Range 0-3 p.s.i.
Flow Range:
Standard Range 31-1000ml/min || Extended range 5-1000ml/min (MAX)
Humidity:
below 90% R.H.
Temperature:
Standard range 16-26C || Extended Range 10-30C
Cooling:
Air cooled instrument - 3" fan
Power:
12VDC/1500mA (100-240VAC/12VDC Power Adapter w/IEC320 receptacle is included)
Enclosure:
Aluminum construction with laboratory grade heat tempered coating
Enclosure Size:
5.75 x 9.5 x 3.75" (WxHxD)
Weight:
1.5kg / 3Lb
Warranty:
12 months
Compliance:
CE
For applications exceeding outlined conditions of operation, please contact us for more information on custom produced instruments and accessories.
Ozone Output Information
OL80 Module (Single Stage)
Typical Ozone Output for single stage OL80 Ozone Generator
Flow
LPM
Flow
ml/min
Output
µg/ml
Output
[mg/hr]
0
0
0
0
1/32
31
0 - 161
0 - 299
1/16
62
0 - 131
0 - 487
1/8
125
0 - 93
0 - 698
1/4
250
0 - 57
0 - 855
1/2
500
0 - 33
0 - 990
3/4
750
0 - 23
0 - 1035
1
1000
0 - 17
0 - 1020
Note that we are able to provide Custom Ozone Output adjustments in the range of 10% - 100% of the Typical Ozone Output. Contact us for details.
Each ozone generator is tested and calibrated separately using 2" H2O back pressure.
OzoneLab™ instruments are designed for low flow/high output applications and are not suitable for flow rates above 1000ml/min due to the size of orifices in the ozone gas flow path. Gas Pressure is 0-3 p.s.i. (For applications dealing with higher pressures - please contact us for more info and/or consultation)
Built-in External Control Ports
These pictures show the locations of the EXT Syringe Control Port and EXT O3 Control Port. Available options for these ports are available in our Accessories area.
Folding table
The folding table folds up under the generator for storage.
This diagram shows how to setup the OL80F/S - our most frequently ordered model.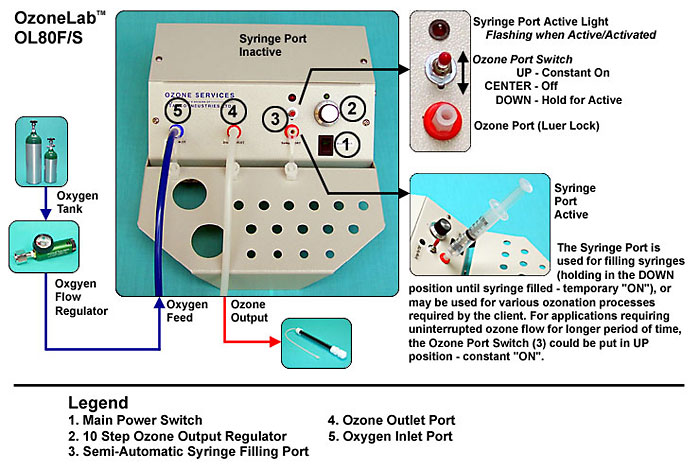 The OzoneLab™ OL80F/S ozone generator has both an Ozone Outlet Port (4) as well as a Semi-Automatic Syringe Filling Port (3). While the instrument is going through it's ozone production stabilization period (4-5 minutes), ozone should be channeled through the Ozone Outlet Port (4) into the Ozone Destructor for safe elimination.
The Ozone Outlet Port can also be used for applications which the client feels does not require the Syringe Filling Port.
The Syringe Port is used for filling syringes (holding in the DOWN position until syringe filled - temporary "ON"), or may be used for various ozonation processes required by the client. For applications requiring uninterrupted ozone flow for longer period of time, the Ozone Port Switch (3) can be put in UP position - constant "ON".
Small LED associated with Ozone Concentration Regulator(2) indicates ozone production duty. More intensive light signifies higher ozone production setting, with the highest intensity being with #10 setting on the OCR dial.
---
Examples of External Ozone Production & Ozone Flow Control Devices
---