The OzoneLab™ OL80M is our first programmable combination instrument, based on proven design platforms:

The OL80M is very mobile and easy to use instrument designed and produced specifically for laboratory and medical research applications, addressing three basic needs of clients active in the outlined fields:
Production of ultra-pure, concentrated ozone gas
Monitoring & Controlling of the production of ozone gas via a dynamic response to detected conditions, according to pre-defined set of instructions (program).
Monitoring & Controlling of peripheral functions via a dynamic response to detected conditions, according to pre-defined set of instructions (program).
OzoneLab™ Team developed a program for OL80M instruments to meet the most frequent requirements of our clients. Existing pre-wired and pre-programmed functions give to the OL80M combination unit an ability to easily interface with other peripherals, and to act as a command center not only for ozone production but also for numerous peripheral functions. However, unique application tasks may call for custom programming services, which are available directly from our company. We encourage all prospect clients considering the purchase of OL80M instrument(s), to review carefully all information presented and to consult our tech-team.
To meet the above outlined requirements, the OzoneLab™ OL80M Generator & Controller is equipped with: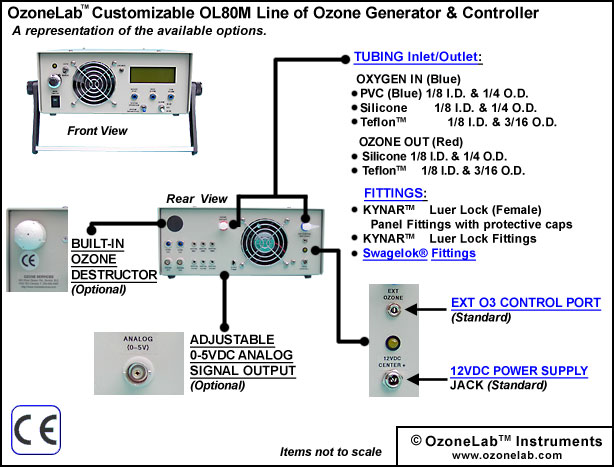 Pricing and model comparison chart
S = Standard | O = Optional | N/A = Not Applicable
OL80M
Generator, Analyzer or Combination
Generator & Controller
360 Degree View Available
N/A
Setup Example Available
N/A
Model Picture
OL80 Ozone Module (Single Stage)
S
OL100 Ozone Module (Double Stage)
N/A
Flowmeter - 500cc/min (Standard)
or Customer Specified
N/A
10-Step Ozone Output Regulation
N/A
10-Turn High Resolution Ozone Output Regulation
S
Combination of 10-Step Ozone
Output Regulation and 10-Turn High
Precision Ozone Output Regulation
N/A
External Ozone Output Regulation
(EXT O3 Control Port)
S
Internal Ozone Destructor
O
(+60U$)
Semi-Automatic Syringe Adapter
with EXT Syringe Control Port
N/A
Countdown Timer & Buzzer
N/A
Ozone Analyzer Module
Standard Range 0-200 µg/ml
(0-15% by weight)
N/A
Repeatability (% scale)
Zero Drift (% scale)
Response (to 95% - Flow Dependant)
1%
1%
2sec.
Compensation Pressure & Temp
3bar/ 43psi
5-45°C
LED Ozone Concentration Display
N/A
Microprocessor OzoneLab™
Programmable Controller Module
S
Banana Clip Ground Connection
S
Minimum & Maximum
Ozone Gas Flow Requirements
0.005 LPM
1.0 LPM
Adjustable 0-5VDC Analog Signal Output
O
(+60U$)
Luer Lock Kynar® Ozone Resist Fittings
S
Swagelok® Fittings

O
(+245U$)

Wall Mounted Enclosure
N/A
Desktop Tower Enclosure
with Handle/Stand - Stackable
S
Desktop Enclosure with 45° front panel
N/A
Folding Table for Desktop Enclosure with 45° front panel
N/A

Instrument Weight

3.1kg/7.0Lb
Power Requirements
12VDC
0.7 Amp
100-240AC/12DC/4Amp Universal Adapter
Included
Marking
Yes
Base Price [U$]
$3,395.00
+ Programming
All prices are in US Dollars and do not include shipping and handling.
OzoneLab™ OL80M Technical Data:
Ozone Production:
OzoneLab™ OL80 ozone production module
Ozone Production Range:
0 – 150 [µg/ml] | 0 – 10% by weight
Oxygen/Ozone Flow:
0.03 - 1 [LPM] / 30 [ml/min] - 1000[ml/min]
Ozone Gas Fittings:
Kynar™ (PVDF) Female Luer Lock
Wetted Materials:

| | |
| --- | --- |
| Ozone Cell: | QUARTZ glass |
| Internal Tubing: | Teflon™ |
| Panel Fittings: | Kynar™ (PVDF) |
| Ozone Destructor: | Kynar™ (PVDF), Catalytic Agent, PVC housing & vent cap Controller I/O's (total): |
| Digital Inputs: | 8 |
| Digital Outputs: | 8 |
| A/D/ & D/A: | 8x A/D (or 6x A/D and 2x D/A) |

Visual Data Output:
LCD display (4lines x 20 characters)
Audio Output:
Built-in buzzer (OFF/40dB/80dB)
Humidity Range:
up to 90% R.H.
Temperature Range:
Standard 16°C - 26°C || Extended 10°C - 31°C
Instrument Cooling:
2x 3" Fan in Push-Pull configuration
Feed Gas:
Oxygen, 0.22micron filtration
Gas Pressure:
Standard 0-3 p.s.i.
Overall Size w/handle
4.75x 12.00x 12.00" || 120x 305x 305mm (HxWxD)
Enclosure Only
4.00x 10.00x 11.00" || 102x 254x 279mm (HxWxD)
Power:
12VDC/1000 - 2500 mA, Center Positive
External Power Adapter:
OzoneLab™ Universal Input (100-240VAC, 50-60 Hz) Power Adapter with a standard IEC320 modular AC receptacle. A North American standard 3 prong power cord included.
For applications exceeding outlined conditions of operation, please contact us for more information on custom produced instruments and accessories.
Ozone Output Information
OL80 Module (Single Stage)
Typical Ozone Output for single stage OL80 Ozone Generator
Flow
LPM
Flow
ml/min
Output
µg/ml
Output
[mg/hr]
0
0
0
0
1/32
31
0 - 161
0 - 299
1/16
62
0 - 131
0 - 487
1/8
125
0 - 93
0 - 698
1/4
250
0 - 57
0 - 855
1/2
500
0 - 33
0 - 990
3/4
750
0 - 23
0 - 1035
1
1000
0 - 17
0 - 1020
Note that we are able to provide Custom Ozone Output adjustments in the range of 10% - 100% of the Typical Ozone Output. Contact us for details.
Each ozone generator is tested and calibrated separately using 2" H2O back pressure.
OzoneLab™ instruments are designed for low flow/high output applications and are not suitable for flow rates above 1000ml/min due to the size of orifices in the ozone gas flow path. Gas Pressure is 0-3 p.s.i. (For applications dealing with higher pressures - please contact us for more info and/or consultation)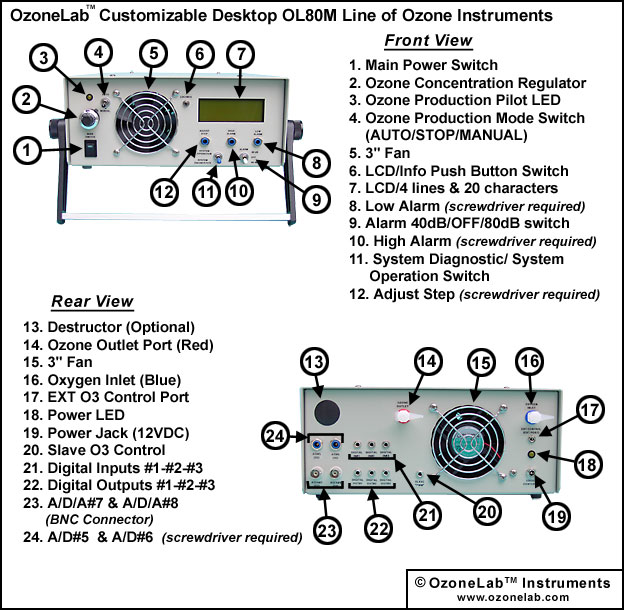 Built-In Catalytic Ozone Destructor / OPTIONAL
The Ozone Destructor housed inside the OL80M instrument is designed to safely handle the task of elimination of ozone gas up to a maximum flow rate 4000 [ml/min] or 1250 [mg/hr]. The process of ozone gas "destruction" is carried out using a special catalytic agent, which induces the conversion of ozone to oxygen.
Ozone Destructor built into OzoneLab™ OL80M instrument can be used as:
an integral part of the OL80M unit when the Red Green tubing bridge is installed, channeling the ozone gas from the Ozone Production Module directly to the Ozone Destructor (Ozone Outlet Port Ozone Destructor Inlet Port).
an independent component for ozone gas elimination when the tubing bridge is removed, and the gas intended for the destruction is fed into the Ozone Destructor Inlet Port (Green).
LCD Display:
The visual interpretation of pre-programmed processes is displayed on the LCD module, that offers 4 lines & 20 characters per line off the text. LCD Programmable Controller Module has also back panel illumination, with three levels of intensity (OFF-50%-100%) the operator can select from.
Software & Programming Services:
OzoneLab™ Controllers and combination units are supplied with standard resident program stored in EPROM. If special programming is required, programming services are provided directly by OzoneLab™ Technical Team. However, this service is considered as a custom order.
The integration of Programmable Controllers into existing OzoneLab™ family of products opens the door for a creation of OzoneLab™ Tower hardware sets, that are able to cope with more complex control and monitoring tasks and are able to provide dynamic response to changing conditions in real time.
Most Frequently Ordered Model
OL80M
---
Examples of External Ozone Production & Ozone Flow Control Devices
---